12th May, 2017 - Conference Tour Day (Optional)
The participants of the Conference are offered with a 1 day tour to the important places of Canada to rejoice and enrich the cultural visit locations. The conference tour is an highly optional one and the participants are requested to register for the same at Conference on 10th May, 2017 and 11th May, 2017 with Mr. Shanmugapriyan Thiagarajan, Conference Co-ordinator by paying $100 for visiting the following places exclusive of the admit fee and meal. This is a very limited group tour and participants are requested to register for the same at the earliest on 10th or 11th May, 2017. It is First Come on First Serve basis.
Parliament Hill
Parliament Hill, colloquially known as The Hill, is an area of Crown land on the southern banks of the Ottawa River in downtown Ottawa, Ontario. Its Gothic revival suite of buildings.
Canadian War Museum
The Canadian War Museum is Canada's national museum of military history. Located in Ottawa, Ontario, the museum covers all facets of Canada's military past.
Rideau Canal
The Rideau Canal, also known unofficially as the Rideau Waterway, connects the city of Ottawa, Ontario, Canada, on the Ottawa River to the city of Kingston.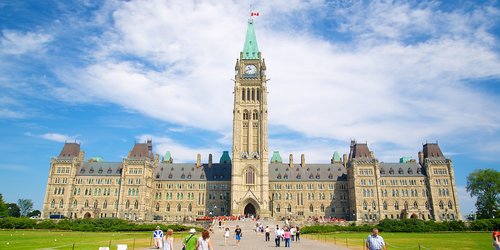 Peace Tower
The Peace Tower, also known as the Tower of Victory and Peace, is a focal bell and clock tower sitting on the central axis of the Centre Block of the Canadian parliament buildings in Ottawa, Ontario.
Haunted Walk
We take you inside the old Carleton County Jail (now the HI Ottawa Jail Hostel) one of the most haunted buildings in North America! Was the wrong man hanged for the murder.
Hog's Back Falls
The Hog's Back Falls, officially known as the Prince of Wales Falls, but rarely referred to by this name, are a series of artificial waterfalls on the Rideau River in Ottawa, Canada.